87% of Venezuelans say they do not have money to buy enough food, according to the most recent assessment of living standards by Simon Bolivar University. However, in Venezuela the crisis is not only humanitarian… Animals in our country are also dying of hunger and scarcity.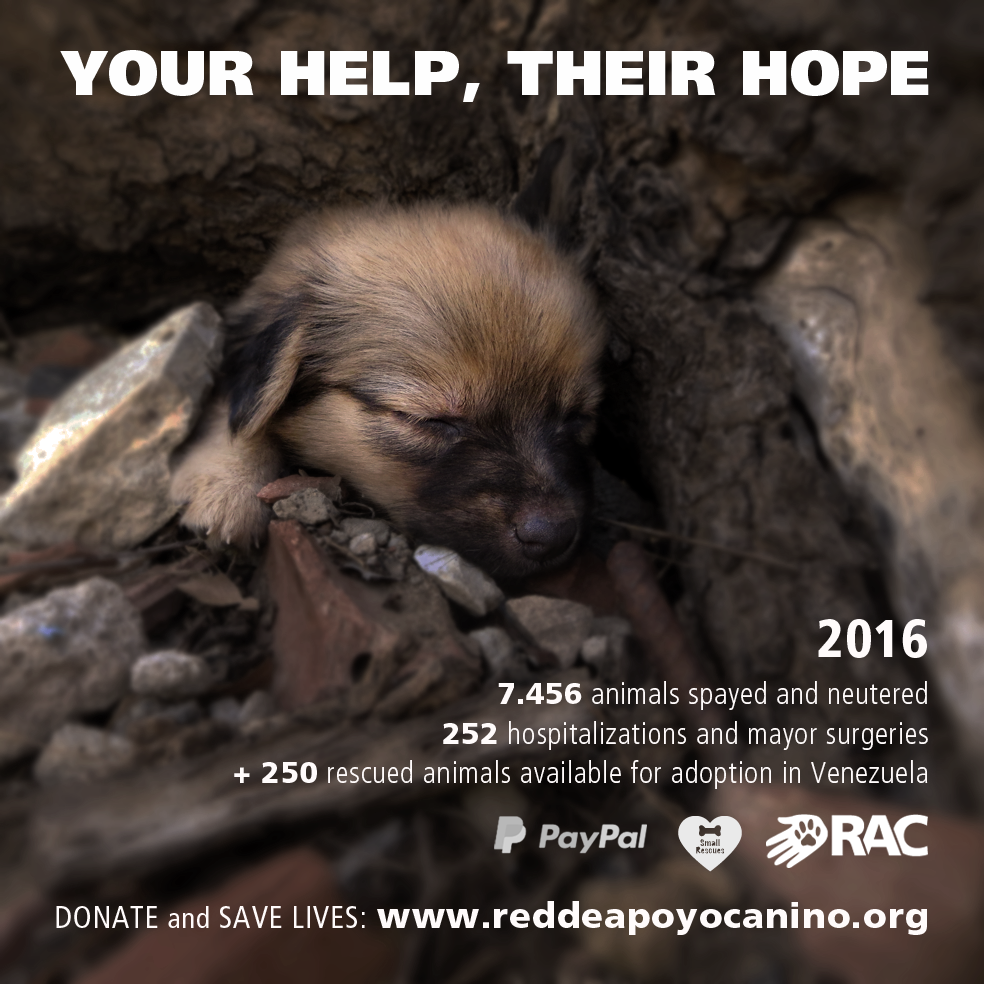 And they need your support, today more than ever. We no longer have resources to continue helping animals as we have been doing for the past 10 years.
Currently, we have more than 270 animals that depend exclusively of our help, thousands that thanks to our spay programs across the country have the chance to have a better life and hundreds that benefit from our free veterinary attention service.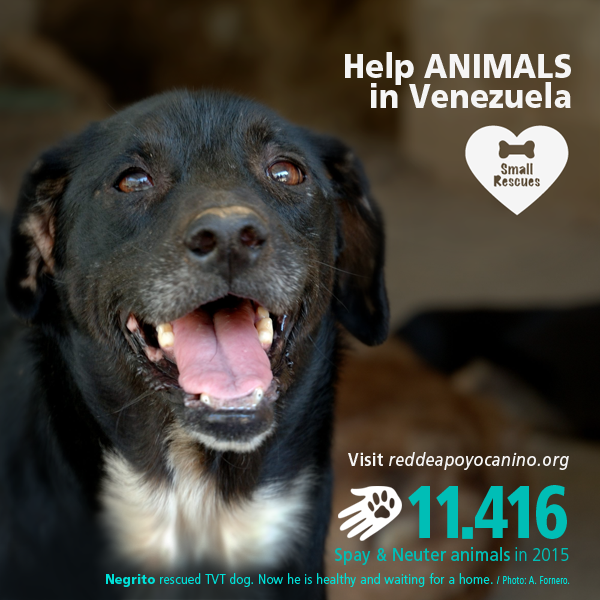 Red de Apoyo Canino is a non-profit organization based in Venezuela. Since 2007, we have worked tirelessly to end animal abuse and neglect in Venezuela. Our focus is on a strong spay and neuter program as well as on the creation – through education – of a culture where animal rights and welfare are an integral part of the community.
Our NGO has over 270 animals under its care, many of them in rehabilitation programs. We also provide:
low-cost and free spay and neuter campaigns (11,416 in the past year)
and free veterinary care (323 surgeries in 2015).
In recent years, our country has been under an unprecedented humanitarian crisis. We live in an increasingly dire situation, both socially and economically. In 2015 the inflation level shot up to 275%, the highest level in the Western Hemisphere. This year, that rate could more than double to 720 % (IMF: Estimated Venezuelan Inflation). Every single inhabitant of Venezuela, including animals, suffers the consequences of this extreemly precarious situation. Our current reality requires us to take critical measures.
Our funding comes from the generous support of private individuals, but the crisis has led to a drastic drop in the number of donations. We are facing a situation never before known in Venezuela. Resources are extremely scarce. Our sterilization and veterinary care programs are under significant threat.
As the crisis continues to worsen, we remain deeply and passionately committed to preventing further neglect and animal abuse. High costs and lack of medicine and anaesthetics, combined with increasing numbers of animals being abandoned and left to suffer has put tremendous stress on our organization. We are in urgent need of support.
We need your help to continue helping them:
1. Help animals in Venezuela from anywhere in the world using PayPal.
2. Provide a monthly donation using PayPal:

3. You can donate 1 EUR a month using Teaming: https://www.teaming.net/reddeapoyocanino
If you want to contribute with us, request further information, details, questions or suggestions you can reach us by mail international@reddeapoyocanino.org
Thank you on behalf of Venezuelan stray dogs and cats.
More info here: Your help. Their hope.
Update 2017:
Dear friends,
Thanks to the donations we have received from many of you, we have managed to continue some of our animal aid programs. However, the current crisis that affects our country has caused a huge increase in the number of dogs and cats abandoned, mainly pregnant females left in the streets.
That is why we need to obtain the necessary resources to continue working in the communities where the situation is extreme and to avoid more animal suffering.
Despite the local difficulty and lack of institutional help, this last quarter we were able to offer – among other educational and preventive activities – hospitalization and surgery to a group of animals, giving them the opportunity of recover their health.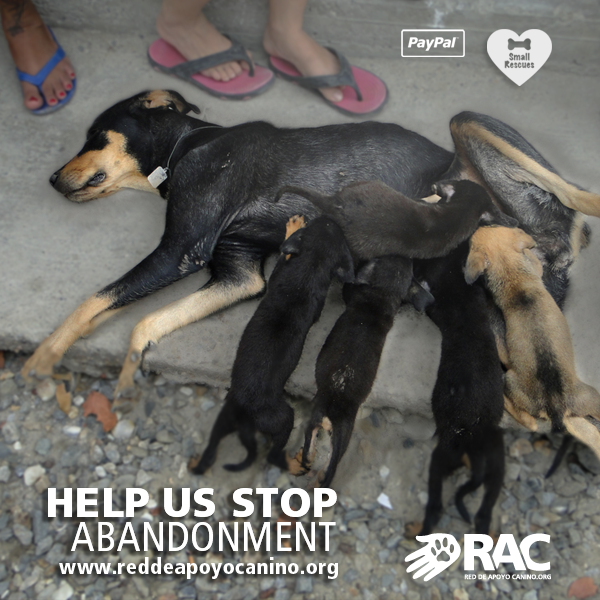 These are some of the animals we could help:
MILAGROS
Crossbreed female dog, 1 year old.
Car accident, medial fracture of the right femur.
Surgery and hospitalization.
INOCENCIA
Crossbreed female dog, 3 years old.
Fracture of pelvis.
Surgery and hospitalization.
CHIQUI
Cocker, male, 5 years old.
Hip fracture.
Reduction of multiple fracture of the right iliac.
Surgery and hospitalization.
LILI
Female poodle with puppies, 2 years old.
Eclampsia post-partum.Tumor parapeneano with considerable growth.
Surgery and hospitalization.
VIEJA
Crossbreed female dog, 9 years old.
Dorsal deviation of the trachea.
Surgery and hospitalization.
NIÑA
Crossbreed puppy.
Fever, dehydration.
Hospitalization.
LUNA (2)
Labrador, female, 7 years old.
Ligament cross.
Femur head broken, leg rear left.
Surgery and hospitalization.
LEO
Crossbreed male dog, 7 years old.
Wound with Myiasis, considerable, below the armpit right up to the chest.
Surgery and hospitalization.
SASHA
Crossbreed female dog, 6 years old.
Hematoma abdominal.
Renal dysfunction.
Hospitalization.
AGUSTINA
Crossbreed female dog, 7 years old.
Loss of 2 fingers.
Myiasis and hormonal disease.
Hospitalization.
BLESSED
Crossbreed male dog, 3 years old.
Eye wound.
Surgery and hospitalization.
LIDICE
Crossbreed female dog, 4 years old.
Severe Myiasis.
Hospitalization.
Also in November 2016, RAC's sterilization team traveled to the renown archipelago Los Roques to assess and help with the serious problem of animal overpopulation in this island, where animals had threats of poisoning.
During these free campaigns, we sterilized 121 stray and community animals (107 dogs and 14 cats) in Roque, Madrisqui and Crasqui. Also we vaccinated animals that had been previously sterilized and carried out other surgeries.
Other free sterilization campaigns in November where located in Cumaná, Sucre. To avoid the abandon of many new homeless animals, we completed the sterilization of homeless 214 animals during four days.
All our work on behalf of animals is possible thanks to the support of people like you. Please consider to continue supporting our work as it will allow us to continue offering veterinary assistance, food and sterilization at low cost or free of charge in the most critical communities in our country.
Together we save lives!
---
Sources in other languages:
PT: Crise econômica na Venezuela faz donos abandonarem seus animais – Folha De Sao Paolo, 30/07/2016
EN: Venezuelan Food Shortages Force Many to Abandon Their Pets – The Atlantic, 07/09/2016
SP: En el Día Internacional del Perro Callejero, en Venezuela llaman a no echarlos a la calle por la crisis – Miami Diario, 09/09/2016
SP: Crisis económica en Venezuela también la padecen los animales: Alertan aumento de abandono y malnutrición de mascotas – Miami Diario, 07/07/2016
SP: Ante la crisis, muchos en Venezuela optan por dejar en la calle a sus mascotas – El Nuevo Herald, 21/08/2016
---
LB Johnson is the author of the number 1 best-selling dog book on the United States in 2015, "The Book of Barkley – Love and Life Through the Eyes of a Labrador Retriever" and "Saving Grace – A Story of Adoption"and she has decided to commit ALL book sale royalties to our organization during the month of August so we encourage you to purchase her wonderful books
Both books are available at Amazon and Barnes and Noble online bookstore.
And her coordinates are as follows:
www.thebookofbarkley.blogspot.com
Twitter @LBJohnson8
LB, thank you so much for helping us to continue helping animals in Venezuela!